The 5 Best Restaurant Sign Designs
There are a lot of factors that go into the making of the best restaurant sign designs. A well-designed restaurant sign can be one of the best advertising tools for any restaurant. Some of the factors that go into the making of a high-quality sign design, include the sign's focus, size, attractiveness and more. We've seen and created a ton of restaurant signs in our time and in this article we'd like to present you with what we believe are our top 5 restaurant sign designs.
Best Restaurant Sign Designs
If you're interested in making your own best restaurant sign design, contact us at
Westmount Signs and Printing
to see how we can help. We have wonderful designers on staff that can help you to create a one of a kind sign at a great rate.
Click here to contact us today!
"We are so happy with the great work and amazing work Westmount Signs did for our office!! We are in love with our new sign and really appreciated their hard work. Everything was completed perfectly and on time! Thank you, Westmount Signs!"
-Dr. Mayada Kheriba, Wilmot Dental Care
Click here for more testimonials
Without further ado here is our list of our favourite top 5 restaurant signs. We hope you enjoy them!
5. Mel's Diner
We really like this sign because of its simplicity and effectiveness. Sometimes the simplest designs are actually the most effective and Mel's Diner is a great example of this. The sign is easy to spot, even at night, and the contrasting red on white make it easy to read and understand. What makes it unique is its retro neon look, but is actually LED with channel letters. While there are other restaurant signs similar to this we could have chosen, we feel that Mel's Diner does an outstanding job of making a sign look clean and professional.
4. Rae's Restaurant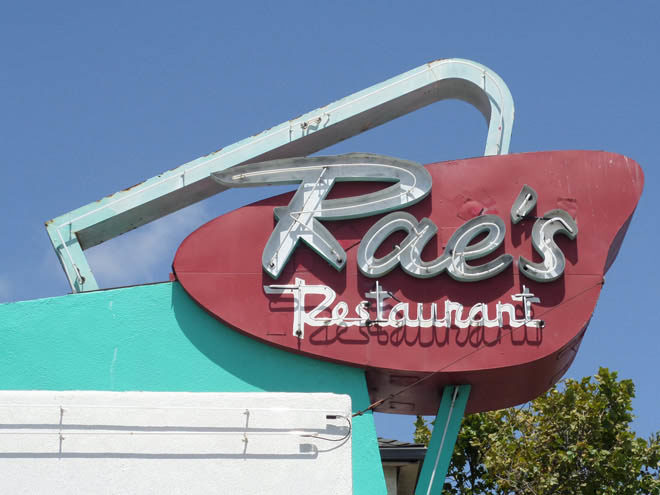 Sure the sign at Rae's Restaurant in Santa Monica may be old but we think it's a classic design that does a particularly good job at drawing in customers of all ages. During the day it stands up high on the street side, poking out for all customers, but at night, its neon lights light up making it very noticeable. Retro signs like this one are great for drawing in older customers who are looking for more traditional food, and younger customers who are looking for a unique experience. Though because of their safety hazard we no longer suggest the usage of neon lights for your signs, at Westmount Signs we are able to provide you with some fantastic
backlit sign designs.
3. Nana's Irish Pub
Image Source: TripAdvisor
This sign for Nana's Irish Pub in Oregon is one of the coolest street signs we've ever come across. It is well designed, using traditional Irish greens and golds and classic Celtic art. This sign is sure to drive in customers who are longing for some Irish pub food. We love that they decided to go with a more classic tavern style sign as it gives Nana's a more "at home" feel, which is something many pub goer's look for.
2. Brothers Bar and Grill
This is a really cool sign design. The things we love about it is that it's very focused and simple, anyone who looks at this sign knows they can get a beer here. We also love the usage of bright colours, such as yellow, which can help to draw attention. Add in the fact that this sign is fairly large and we're certain that it'll help bring in a ton of customers for their business.
1. Meat Dept.
Located in Toronto, Ontario, the Meat Department has become one of the areas premier butcher shops and their sign is nothing short of fantastic. We love that they chose to use a more rustic look for their sign because it helps to give the shop an immediate traditional feel. The focal point of the sign is clearly the bull sticking out of the front of the sign which leaves no doubt about which products they sell. What's most impressive is the amount of detail that's clearly been put into the sign, particularly the bull head. We find this leads you to feel that this business is all about detail and perfection which is what you want from people who deal with your food.
Westmount Signs: Your All-in-One Signage Company
We hope you've enjoyed our choices for some of the best restaurant signs. Our company, Westmount Signs and Printing, is located in the Kitchener-Waterloo region and we provide high-quality signage and printing services for businesses in and around the area, including restaurant signage but that's only one of our many products and services. We also offer other kinds of
exterior
and
interior signs
,
digital printing
,
vehicle graphics
and our own
installation and maintenance service.
If you would like to learn more about us or get started on a project, feel free to call us at
519-885-1400
or email us at
sales@westmountsigns.com!