Safety signs always serve a purpose, to warn people of regulations or potential danger, but this doesn't mean it can't be done with an added sense of humour. Whether to be taken seriously or simply used as a gag sign there are plenty of funny and effective safety sign designs out there. In this article, we'll share with you our top 5 favourite funny but effective safety signs. At Westmount Signs, we can help you come up with your own effective and possibly humorous safety signs.
Click here to learn more about what makes us different from any other sign and printing shop.
An excellent sign company
Westmount Signs is an excellent sign company. From Project Management, Design, Manufacturing and Installation Westmount is a one stop shop for Signs and Printing. Their customer service and attention to detail is among the best I have experienced.
John Griffin
Project Manager, Active Transportation & LRT Integration/ Engineering Services, Integrated Planning and Public Works - City of Waterloo
Click here for more testimonials!
5. Do Not Enter
Image Source: www.premierhandling.com
Makes sense right? Without context, this sign seems completely useless. How are you supposed to enter if the door doesn't open? We can only assume this is some sort of automatic door that needs to be opened from the other side and they've had people attempt to bust through the door even when the door doesn't open, but whatever the case this sign is sure to draw an initial chuckle from anyone who reads it.
4. $200 Fine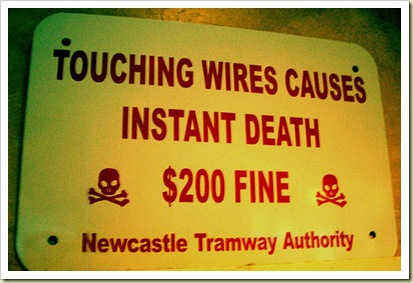 If there's any sign that's going to be effective in stopping you from touching a wire this would be it. Not only do they warn you that making contact with the wires will cause death, but what's even worse is that you'll also be charged a $200 fine. If death isn't enough to scare you away surely taking a hit to your bank account will do the trick. The Newcastle Tramway Authority will probably have no trouble keeping people from touching their wiring anytime soon.
3. Think of the animals
Image Source: www.guy-sports.com
Clearly the owners of this sign are more concerned with the well-being of the animals in the zoo than the life of their customers. This sign is a great twist on the classic "do not climb the fences" sign by insinuating that the health of their animals should not be affected as a result of your own bad choices.
2. Sharp Edges
Image Source: www.maniacworld.com
We can only assume that this sign wasn't meant to be taken seriously, but it certainly does a good job of drawing attention with its clearly humorous message. The worrisome part is that there is an actual warning on this sign at the bottom where it states, "also, the bridge is out ahead." If this sign was actually used to warn oncoming vehicles that a bridge was out it's probably the most ineffective sign on this list. Despite the fact that it would be almost entirely ineffective the dry humour incorporated by the sign is simply too much to leave it off this list.
1. No "P" in our "OOL"
Hygiene is always a concern in public pools and the owners of this sign wanted to make sure they did their best to keep it that way. This sign is likely to catch the eyes of passersby who believe that either the "P" fell off the sign or the makers of the sign accidentally misspelled "pool", only to find out that it was no mistake but a cleverly designed sign that certainly gets the point across effectively. We think this ool sign is ositively erfect
!
Westmount Signs and Printing
We hope you've enjoyed taking a look at some of our favourite funny safety signs, and maybe we've helped inspire you to create your own signs. At Westmount Signs and Printing in Kitchener-Waterloo, we have talented designers who can help you come up with a unique safety sign that would suit your needs perfectly. Want something funny and eye catching? We can do that! Want something serious and informative? We can do that too! Whatever your wants and needs we're certain we can help you. We provide mock ups for your guaranteed satisfaction with the end result and we're always willing to talk. Our team is well-known in the region for having extremely fast turnaround times for both initial concepts and finished products. If you would like to start on a project with us or have a few questions, feel free to phone us at
519-885-1400
or email us at
sales@westmountsigns.com
. Similar Blogs:
Top 5 Funny Election Signs